- Rapper Hubert Nakitare aka Nonini is rumoured to have died on New Year's eve
- A blogger has claimed that he died in a road accident on Mombasa Road
The New Year started on a sour note for a local popular secular musician with news that he had died.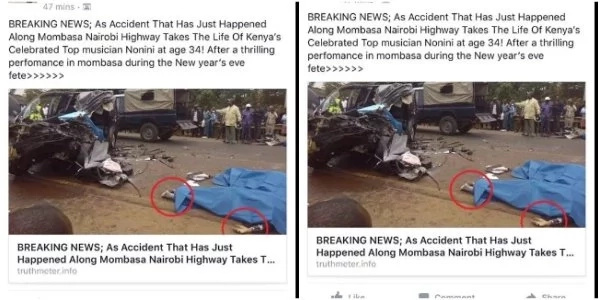 READ ALSO: Case of news anchor whose car was stolen by fellow employee takes a dramatic new twist
Rapper Hubert Nakitare popularly known as Nonini was rumoured to have passed on after a tragic road accident along Mombasa Road on New Year's even.
A blog claimed the 34-year-old met his death after an exhilarating concert in Mombasa on New Year's even.
There was a picture of a grisly road accident scene complete with a body covered in a blue sheet said to be that of Nonini.
READ ALSO: This TBT photo of Size 8 and former KTN News anchor is too ADORABLE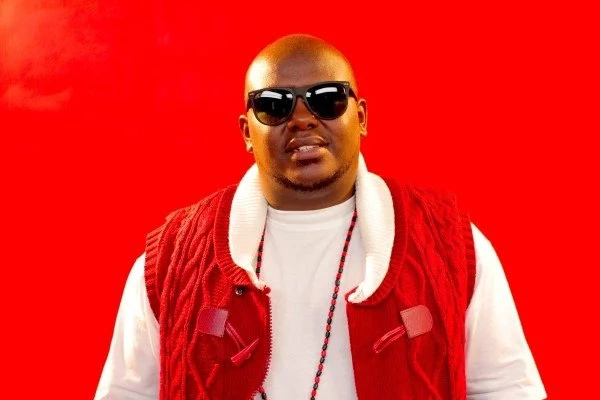 But the musician has come out to assure his family, friends and fans that he is alive and well.
"And as we get into a new year still blogs coming with cheap stories to attract numbers. So Sad. Just want to confirm to my fans,family and friends that am okay and this is a hoax. Thanking God for allowing us to see another year. Blessed 2017," Nonini posted on Facebook.
Fans also came out to strongly condemn the rumor mongers accusing them of seeking cheap publicity.
Nayje Kang'ethe: How can someone with sound mind say such an awful thing???? Shame on him! Happy 2017 and beyond NONINI. May God protect you from the snares of the devil!
Ufanisi Minister: Desperation is a very bad spirit. See how far people can get to get attention. These are neither atheist or pagans. They've lost their humanity.
READ ALSO: Legendary footballer Joe Kadenge is dying, here are his deathbed wishes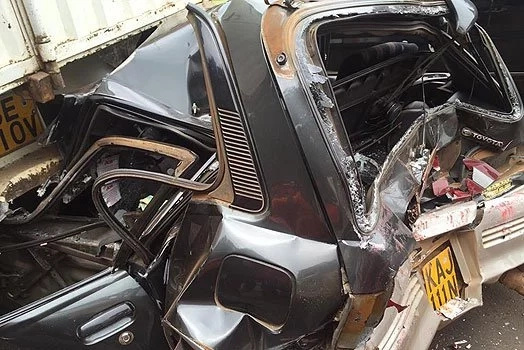 Josiah Nyanchoka Nyabute Mgenge: True Nonini hiyo si poa Thank God you hale and Hearty may you live long and shame on the Author of such rumuors and finally powle to all those involved in the accident and their families God is with them.
Winnie Carlos: Thank God you ok,these bloggers wanahitaji sheria ichukuliwe dhidi yao.
Evelyne Wambui : Na washindwe, i was so worried i had to open your account for confirmation.